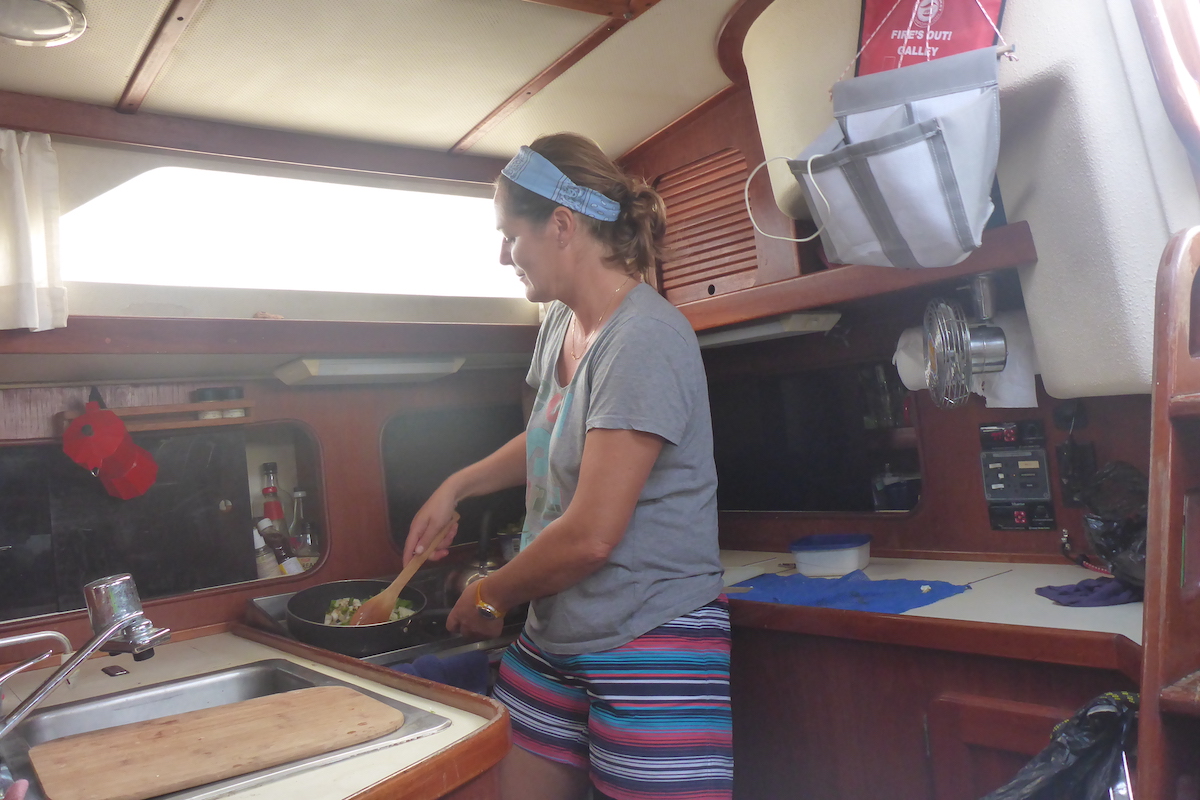 22 Aug

Tips: cooking on board + recipe!
Robert and Anneke sailed from Mexico to Australia in nine months. "What do you eat on board then?" was a frequently asked question that Anneke received from people at home. She wrote a travel cookbook, with not only practical and tasty recipes, but also tips about cooking on board, storing and preserving fish and vegetables, information about local dishes and customs, travel stories, and anecdotes. During the Open Day of Hutting Yachts on October 16, 2021, Anneke will give an English presentation with information and tips about cooking on board. You can buy her (signed) book there and she will give a demonstration of how to prepare one of the most popular dishes from French Polynesia: Poisson Cru!
French Cuisine in French Polynesia: Tarte Flambée (Flammkuchen)
While the boat was on dry land at the wharf, Robert and Anneke drew inspiration from the French cuisine in Tahiti. In French Polynesia, they don't only sell local products, but there is also a Carrefour supermarket, with the same store layout as in France. While the French cheeses are flown in, other products are delivered by boat. Even on the other side of the world, the European feel is not far away.
The restaurants also have French dishes on the menu. Robert and Anneke often ate tarte flambée, better known as flammkuchen, at their favorite restaurant Les Trois Brasseurs, thirsty and hungry after a day's work on the boat.
Recipe: making Flammkuchen on board
You can also easily make Flammkuchen on board, especially if you have chilled dough. Don't let the Alsatians hear it, but if you don't have the dough, you can also use thinly rolled pizza dough or Mexican (flour) tortillas.
What you need:
For 2 people:
Flammkuchen dough
1 jar of crème Fraiche
2 tablespoons horseradish
1 (red) onion
100 grams of smoked salmon
Count on one flammkuchen per person for a full meal. It is also very tasty as a snack or appetizer.
Preparation:
Roll out the dough on a baking tray. Heat the oven to 220 degrees.
Cover the bottom with a nice layer of crème Fraiche and some horizontal slices of thinly sliced ​​onion, capers, and pieces of smoked salmon.
Place the Flammkuchen in the oven until the dough turns a little dark (8-15 minutes).
Serve on a large cutting board.
The classic Flammkuchen is topped with crème Fraiche, onion, and strips of bacon, but what about variations such as ricotta with figs and blue cheese?
Tips to make cooking on board tastier and easier:
The right tool
Why have the best tools in your toolbox and not in the kitchen? Make sure you have sharp knives, also a good filleting knife, a few good pans that preferably fit together, and a good can opener.
Organize stocks
Organize supplies in a logical way, put breakfast items together, quick snacks together and cans by sort. This way everyone can always find it easily. Place the opened supplies in an accessible place in the kitchen, such as in a galley cupboard, for quick access.
Long-lasting seasonings
Make sure you have various long-lasting, tasty seasonings on board such as dried tomatoes, capers, olives, curry pastes, soy sauce and horseradish, for example, that enriches the food and provides variety.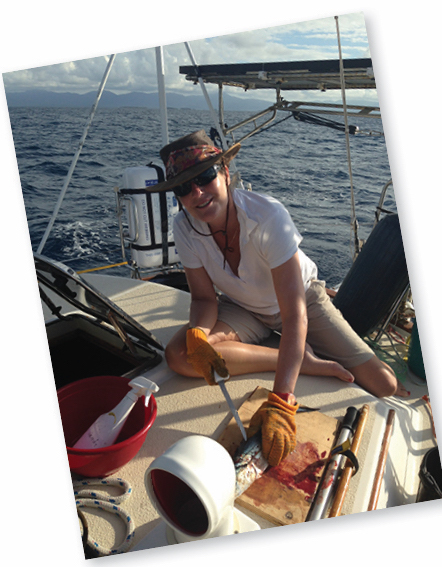 Hutting Yachts Open Day at 16th of October
Anneke will give a lecture about cooking on board at the Hutting Open Day on the 16th of October (in English). In addition, she will have her own stand where she will give tips and inspiring advice on how to make cooking on board better and tastier.
Looking for more inspiration and recipes? Read her blog about Pasta-salad here! Buy her book here online, check her website or buy her book at the Open Day!